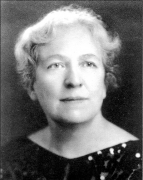 Awards
Distinguished Alumni Service Award (1956)
About Nellie Showers Teter
Nellie Showers Teter was the first woman elected to the Indiana University Board of Trustees. IU's Teter Quad is named in her honor.
Born in Bloomington in 1873 to William and Hannah Showers, she graduated from IU in 1893 with an A.B.
Teter was a dedicated citizen of Bloomington, her family having laid their roots down in the town in 1856. Her grandfather and young father began making cabinets, and created a business that ultimately grew into one of the largest furniture factories on the continent.
In 1895, she married another IU alumnus, Sanford F. Teter, with whom she had two children.
In 1924 she was elected to the Board of Trustees at IU, and immediately set to work on the construction and equipment of dormitories for women students, serving on the board until 1945.
Teter was also associated with numerous civic enterprises of Bloomington. She was a member of the Local Council of Women, the American Association of University Women, the Kappa Gamma Sorority, the Mortar Board, the Faculty Women's Club, the Women's Faculty Club, and had an active part on the Bloomington hospital board.
In 1989, she was inducted into the Monroe County Hall of Fame.