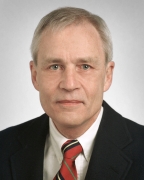 Awards
Distinguished Alumni Service Award (2000)
About Norman R. Hertzer
Dr. Norman Hertzer, chairman of the Department of vascular Surgery at Cleveland Clinic Foundation is acclaimed by his peers as one of the nation's most brilliant vascular surgeons. His patients choose him for his exceptional surgical skills and then discover that his integrity, warmth, sense of humor, and compassion add other valuable dimensions to the care he gives them.
In 1964, after graduating from IU with an AB degree, cum laude, and election to Phi Beta Kappa, Norm Hertzer entered IU Medical School, earning his MD in 1967. He completed his internship and residencies in general and vascular surgery at Cleveland Clinic, returning there in 1976 to begin, as a colleague describes it, "A meteoric rise." As chairman since 1989, he built what is considered the strongest department of peripheral vascular surgery in the world, and earned accolades as being among the best chairmen in the Clinic's 76-year history. He won the confidence of his peers by his unbiased, effective problem-solving as a leader in several prestigious vascular surgery societies.
In 1994, as president of the Society of Vascular Surgery, he focused national attention on need for careful monitoring of vascular surgery results to assure the highest caliber of care, and he was instrumental in establishing guidelines for interventions to prevent strokes. His extensive publications include a benchmark paper on the correlation of coronary and peripheral atherosclerosis, which had worldwide influence on the treatment of these disorders.