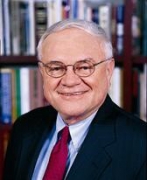 Awards
The Media School Distinguished Alumni Award (2015)
Distinguished Alumni Service Award (1986)
About Paul Del Brinkman
Nurtured in the solid values of the American heartland, and inspired by the career and charisma of his fellow Kansan, William Allen White, Paul Delbert Brinkman chose to enter the world of journalism.
After notable service as a high school teacher of English and journalism, he came to Indiana University to earn the M.A. and Ph.D. degrees, and to serve as a young instructor. In all his teachings, he has stood as an example to his students, and has counseled them to begin with a strong liberal arts background, combined with courses in journalism, and to add informal training from other settings. To meet their challenges one day at a time, stretch their minds, develop discipline, and be sensitive to the world around them.
At the University of Kansas, Dr. Brinkman's administrative abilities and dynamic personality brought the William Allen White School of Journalism and Mass Communications to the upper echelon of professional schools of its kind. Recognized as one of the top deans in journalism education, he continued his research, serving as Big Eight and NCAA faculty representative for his university, and has been honored by the professional organizations of his field. Dr. Brinkman has also been recognized with the Distinguished Alumnus Service Award for his significant influence in the growth of journalism education, for his friendship, and for his loyalty to Indiana University.