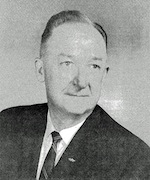 Awards
Distinguished Alumni Service Award (1984)
School of Education Distinguished Alumni Award (1983)
About Philip N. Eskew, Sr.
A naturally gracious and gregarious man, Philip Newton Eskew served as Commissioner of the Indiana High School Athletic Association from 1962 to his retirement in 1976. With a B.A. from Oakland City College and a Master's of Education from Indiana University, Eskew began a 33 year career as teacher, athletic official, student counselor, principal, and superintendent in Indiana high schools.
As IHSAA Commissioner, he added professionalism to the office and greatly improved the quality and scope of its services; it became known as a model across the nation. His enthusiastic philosophy of life, his engaging manner, and his talent for public relations made him one of the state's most popular public figures. Eskew gave thousands of addresses, mixing humor with inspiration, challenging people to improve, to perform to the best of their abilities, and to succeed in a competitive world.
Eskew's honors include a selection as a 33rd degree Mason, membership in the Indiana basketball, football, and baseball Halls of Fame, the outstanding educator award of the Indiana Association of Public School Superintendents, the title of Sagamore of the Wabash, and honorary degrees from Oakland City College and Indiana Central College.