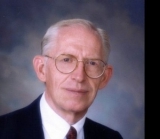 Awards
Distinguished Alumni Service Award (1996)
About Phillip M. Summers
Phillip M. Summers is a leader of the community college movement in America, and has been instrumental in improving the educational, cultural, economic, and social conditions of the Wabash Valley and much of southern Indiana. His own college days began at Vincennes; he then earned BS and MS degrees at Indiana University and a PhD at Indiana State University.
Returning to Vincennes University, Summers moved quickly through the ranks in instruction and student services to appointment as president in 1980, where he worked effectively to guide Indiana's only comprehensive two-year college and to create a high quality atmosphere for students and faculty. After serving as president for twenty-one years, Summers turned to teaching as an Adjunct Professor of Psychology at both IU and VU.
He was a major contributor to IU's new School of Education building, and has stood by IU presidents in support of equitable state appropriation requests. He has been a key figure in the cooperation and mutual support between IU and her fraternities and sororities; his tireless enthusiasm, wise judgement, and affection for the student members have been vital to the growth and success of the IU chapter of his fraternity, Pi Kappa Phi, and its national organization, which he served as president.
His dedication to generations of college students and his prominence at state and national levels for issues concerning vocational education, are only a few of the reasons IU recognized his distinction with a Distinguished Alumni Service Award in 1996.