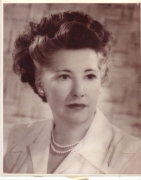 Awards
Distinguished Alumni Service Award (1959)
About Ruth Herdrich Hardy
Ruth May Herdrich Hardy was born in Lebanon, Indiana in 1892, and graduated from Indiana University in 1915, where she studied law. Professionally, Hardy's business was hospitality, and she became one of the first female entrepreneurs in the country to successfully build, own, and operate her own brand of hotels and inns. Her professional undertakings didn't end there, however, as Hardy also spent time working as a teacher, a medical social worker, a general contractor and interior designer, and was admitted to practice law in Indiana and Arizona.
Hardy built her first hotel, Casitas Del Monte, on five acres of land near Palm Canyon, in Palm Springs, California. She sold Casitas a few years later, and from the profits of that hotel, she purchased the Humphrey Birge estate in Pam Springs, transforming it into an exclusive retreat which she named Ingleside Inn. The quality and sheer beauty of the inn attracted international attention and the inn was frequented by movie stars, business leaders, politicos, and military higher-ups. The famous author Norman Vincent Peale, for instance, frequented the inn, calling it a "little gem of a resort, a charming retreat from the world of tensions, a place to renew body, mind, and spirit."
Hardy was also a City Councilwoman for Palm Springs from 1948 to 1960, a tenure in which she initiated the practice of lighting the palm trees that still line Palm Canyon Drive. Additionally, she was responsible for the creation of a number of parks in the area, and is the namesake of the Ruth Hardy Park, which was named in her honor shortly after her death in 1965.
In 1959, Hardy was given the Distinguished Alumni Service Award from Indiana University. Part of her award reads, "…from small beginnings, fortified with rare courage and wisdom, she has built in the arid wilderness a retreat from a world of tension where a myriad of her friends may renew body, mind, and spirit."