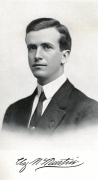 Awards
Distinguished Alumni Service Award (1955)
About Uz McMurtrie
Uz McMurtrie was born in 1884, in Attica, Indiana, to William and Elizabeth McMurtrie. His parents were native Hoosiers, and his father was a soldier in the Civil War for the Indiana Infantry. McMurtrie graduated from high school in Marion, Indiana, from there enrolling at Indiana University. In 1908, he received an A.B. in economics and social science, his thesis entitled "The Separation of the Sources of State and Local Taxation." While at IU, he was elected Class President and was a member of the Phi Kappa Psi fraternity.
After graduation, McMurtrie returned to Marion, where he was elected Deputy County Treasurer from 1909 until 1912, and was re-elected Country Treasurer on the Republican ticket, repeating a term beginning in 1913. He was, as the time, the youngest elected official in Indiana, and was known to be one of the most progressive and active citizens of the community, always enthusiastic and ready to be involved with any movement that was to benefit the city or county.
McMurtrie was widely invested in community and civic affairs, and was a member of the board of directors for both the Young Men's Christian Association and the Federated Charities. He was also a member of the Mecca Club of Marion, the Ancient Free and Accepted Masons, the Knights of Pythias, and the Elks.
Mcmurtrie's professional career was eclectic, and in addition to working in public offices and sharing expertise in the matter of taxes and taxation, he was also an inventor, and in fact owned the patent for a baking dough rolling machine.
He and his wife, the singer Elizabeth McMurtrie, are the namesake of the Uz and Elizabeth McMurtrie Merit Award from the Indiana University Kelley School of Business.