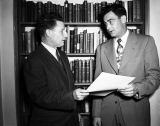 Awards
Distinguished Alumni Service Award (1953)
About Vergil D. Reed
Vergil D. Reed, Professor Emeritus of marketing at Columbia University and a former Vice President of the J. Walter Thompson Company, was born in Delaware County, Indiana, and graduated from Indiana University in 1922. He went on to receive his master's and Ph.D. degrees from the Columbia University School of Business.
Reed was a trained economist and his strength as such was well known. Reed was one of the more popular professors in the School of Business at Columbia among both faculty and students.
Professionally, Reed also worked with JWT, the world's best-known marketing communications brand, responsible for numerous innovative methods in advertising, including the first use of photography and testimonials. For JWT, Reed was charged with leading JWT's Research Department, a department that also employed John B. Watson, the father of behavioral psychology. At the company, Reed was highly regarded for his study of population trends and his ability to apply their meaning to business and illustrate their influence to the various markets, especially those of the foreign nations. He became Vice President of the company in 1950, and retired in 1958 to teach full time.
In addition, Reed held memberships in several trade and government advising organizations, such as the Advertising Club of New York, the American Marketing Association, the American Statistical Association, the Census Advisory Committee, the Marketing Research Council, the National Distribution Council of the Secretary of Commerce, the Population Association of America, the Traffic Audit Bureau, and the Travel Advisory Council of the Secretary of Commerce.
For his scholarship and service, Reed was the recipient of numerous awards and distinctions, including being inducted into the Marketing Hall of Fame from the Boston Conference on Distribution and receiving an Honorary Membership in the Alpha Delta Sigma organization.
He was also the recipient of IU's Distinguished Alumni Service Award.
Reed was the author of numerous books on marketing, advertising, and teaching, and was a Trustee of the Riverside Church of New York, N.Y. In 1965, he retired from Columbia University, and was named Professor Emeritus.
He died in 1986 in Washington, D.C.