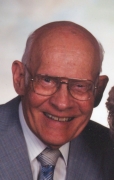 Awards
Distinguished Alumni Service Award (1973)
About Robert Wayne Guthrie
Born September 9, 1896, in Nashville, Indiana, to Mr. and Mrs. William Irwin Guthrie, Robert Wayne Guthrie decided from an early age to follow in the footsteps of his maternal grandfather and become a lawyer or a judge. Fate, however, had other plans for the young man, who would eventually become one of the country's most recognized and decorated journalists, and who now resides in the Indiana Journalism Hall of Fame.
Guthrie had two brothers, Ray, and Wilber, who died in the World War I battle at Argonne in 1918. They grew up in a one-room, one-story log cabin, and Guthrie went on to Nashville High School until he transferred after his freshman year to Columbus High School. Guthrie developed a strong work ethic early on, serving as a conductor on a city car at night, a soda fountain boy, and a shoe shiner in a barbershop, all while still a high school student.
After graduating, Guthrie took a job in the IU Bloomington library, where he worked his way through two years of liberal arts school and two years of Law School. Guthrie then went into the military, working as a Second Lieutenant of Field Artillery in the US Army in World War I. After the war, he continued his law studies at the University of Chicago Law School, to which he transferred in the fall of 1919.
He left in December of 1920, and with the help of acquaintance Delavan Smith, one-time owner and publisher of the Indianapolis News, got a job in the newspaper field, never intending it to be a permanent position. It would, however, span more than a half-century, as Guthrie discovered within himself a knack for journalism.
Guthrie was a reporter for six years, assistant city editor for seven years starting in 1927, and city editor for 14, starting in 1934. In addition to his duties as head of the city desk, he wrote special sports articles and covered the 1925 and 1927 sessions of the House of Representatives. From then until 1947 he headed the News' legislative bureau at every session. He also wrote a well-known column, Ringside in Hoosierland.
Guthrie was married for nearly 51 years to Mildred Elizabeth, with whom he raised three children, Richard Wayne, Ruth Marie, and Frederick Ray. Guthrie was also the grandfather of eight.
Guthrie's contributions to the field of journalism are not to be downplayed. He covered three historic atomic bomb test explosions, two at Bikini Atoll in 1946, one of only about 165 correspondents allowed to attend the tests. After witnessing the explosions, Guthrie began to give public lectures, delivering speeches 850 times in 31 states, to audiences as large as 12,000. Guthrie's lectures hit home, explaining the horror and power of the tests, attempting to raise awareness of the awful and ever-powerful effects of atomic warfare.
He received awards from the Freedoms Foundation at Valley Forge, Pennsylvania, 16 times for "contributions to a better understanding of the American way of life and for constructive work and deeds which support America, suggest solutions to basic problems which beset the nation, contribute to responsible citizenship and inspire love of country." He was also honored by the American Association for State and Local History, received the International Order of DeMolay's Legion of Honor Award, was named a Sagamore of the Wabash by three Indiana governors, and was The Indianapolis Press Club's Indiana Newsman of the Year in 1970.
Guthrie was also an honorary member of the Continental Confederation of Adopted Indians, was made an honorary lifetime member of the Clown Club of America for his column on clowns at the Indianapolis Marat Shrine circus, was presented a plaque and gavel from the Progress for Perry County, Inc., and, arguably his most prestigious honor, was chosen for membership in SOUP, the Society of Undersized Papas, a group for dads with taller sons.
Guthrie has also had an active role in many civic and philanthropic organizations throughout the years, with longstanding affiliations with Kiwanis, Shrine, Masons, DeMolay, and the American Legion. He is listed in the 1976-77 edition of the American Biographical Institute's "Community Leaders and Noteworthy Americans" in recognition of his past achievements and outstanding service to community and state.