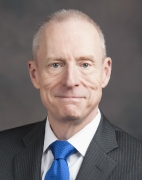 Awards
National Academies (2015)

American Association for the Advancement of Science
Distinguished Alumni Service Award (2009)
About William F. Carroll
Dr. William F. Carroll, Jr. holds a Ph.D. in Organic Chemistry from Indiana University, Bloomington, Indiana. He received an M.S. from Tulane University in New Orleans, and a B.A. in Chemistry and Physics from DePauw University in Greencastle, Indiana. He is Adjunct Professor of Chemistry at Indiana University and has recently retired from his position as Vice President, Industry Issues for Occidental Chemical Corporation
Bill is a member of the Board of Directors of the American Chemical Society, and was Board Chair in 2012-2014. He is also a Past President (2005). He is a Fellow of the Royal Society of Chemistry, and a member of the advisory board for the Tulane School of Science and Engineering. In 2009 he was chair of the Council of Scientific Society Presidents.
He has served on expert groups commissioned by the United Nations Environment Programme, the US Environmental Protection Agency and three states--most recently the California Green Ribbon Science Panel.
Bill has received the Henry Hill Award, sponsored by the ACS Division of Professional Relations, the Michael Shea Award from the Division of Chemical Technicians, the Howard and Sally Peters Award from the Division of Chemistry And The Law, the Harry and Carol Mosher Award from the ACS Santa Clara Valley Section and the Public Affairs Award from the Chicago Section. He has received Distinguished Alumni Awards from both Indiana and DePauw.
He holds two patents, and has over seventy-five presentations and publications listed in Chemical Abstracts in the fields of organic electrochemistry, polymer chemistry, combustion chemistry, incineration and plastics recycling. He is also a published author in the field of popular music, with one peer-reviewed article and a book, "Ranking the '70s."