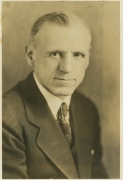 Awards
IUB Athletics Hall of Fame (1982)
Distinguished Alumni Service Award (1963)
About Zora G. Clevenger
Z.G. Clevenger was known as "Mr. Clev" to generations of Hoosier athletes, students, and friends. He was characterized by his commitment to excellence, high ideals, and principles. As an athlete, Clevenger participated in football and baseball at IU. He was captain of the 1903 football team and was named an All-American. In 1904, he was the captain of the baseball team.
He served the athletic department as baseball coach in 1905 and 1906 and basketball coach in 1905. He was our athletic director in 1906 and again from 1923 to 1946. During his 23 years as our athletic director he changed the athetics program from one that had won three Big Ten Championships in its first 23 years in the conference to a program that had 32 Big Ten titles, six National Collegiate Crowns, and two National AAU Championships before his retirement in 1946.
Clevenger's tenure as athletic director has been considered a "golden era" in Hoosier athletics, but Clevenger himself contributed the success of his years to what he called the "five aces" of his coaching staff: Earl C. "Billy" Hayes (track), Everett Dean (basketball), Billy Thom (wrestling), Branch McCracken (basketball), and Alvin "Bo" McMillen (football).