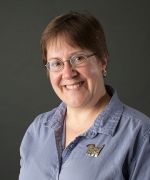 Awards
Thomas Ehrlich Civically Engaged Faculty Award (2001)
About Catherine L. Foos
Catherine Foos is Associate Professor of Philosophy at Indiana University East. She was educated at Boston College (B.A. Philosophy, 1982) and Northwestern University (Ph.D. Philosophy, 1993).
Foos first incorporated service learning into her curriculum at John Carroll University, but when she joined the IU East faculty in 1993, there were no resources to support the development of service learning. So she immediately began building a network. She researched service learning pedagogy, established ties to community organizations, implemented service learning projects in her courses, served as a faculty representative on the Indiana Campus Compact Advisory Board and received a research fellowship that led to the publication of her article, "Fluid Boundaries: Service Learning and the Experience of Community," in the book Beyond the Tower: Concepts and Models for Service-Learning in Philosophy (2000).
Foos has preached the benefits of service learning through workshops and seminars on campuses across the nation. In collaboration with Julie A. Hatcher, Foos co-edited a Service Learning Workshop Curriculum Guide in 1999. She was awarded the Brian Douglas Hiltunen Faculty Award for Outstanding Contribution to the Scholarship of Engagement in 2000 by Indiana Campus Compact.