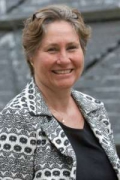 Awards
Thomas Ehrlich Civically Engaged Faculty Award (2009)
School of Social Work Distinguished Service Award (1999)
About Lisa E. McGuire
An Associate Professor at the IU School of Social Work, Lisa E. McGuire implements service-learning components for various courses on the undergraduate and graduate levels, demonstrating her commitment to providing students with opportunities to integrate the knowledge they gain in the classroom into practice in the real world. Serving as the lead faculty on these projects, she formed partnerships with community agencies, and trained and empowered her colleagues, resulting in huge benefits to local agencies from thousands of hours of service provided by proactive students.
Along with other faculty members, McGuire has been extremely involved with research on the DEAL model of critical reflection, which asks students to describe, examine and articulate their learning. Her findings have been presented at several conferences both nationally and internationally; she developed a scholarship around the application of the DEAL model and has presented the model at conferences around the country and in Germany and South Africa. McGuire has also been instrumental in developing and teaching the "Social Work Practice with Involuntary Clients" course at the master's degree level, in which each of her students visits the Indiana Women's Prison and conducts a service learning project with a specific prisoner. Additionally, McGuire is highly valued at the agencies where she generously gives her time and talents. She has served on the board of directors and as president of Christamore House, where she won the Director's Award. She is also involved with Genessaret Free Clinics, where she has served as chair of their Art for Beds fundraiser and was named the Outstanding Volunteer in Fund-Raising.
Over the course of her time at IU, McGuire has been recognized with many awards, including the IU School of Social Work Distinguished Service Award, Woman of the Year Award, IU School of Social Work Teaching Excellence Award, and the Outstanding Bachelor of Social Work Adjunct Instructor Award. Involvement with service learning and a deep desire for student to get the most out of their experiences led McGuire to expand research on the concept of reflection, and its relationship to learning; she was recognized as a 2005 Boyer Scholar for the IUPUI Center for Service and Learning for this research. In 2009, McGuire received the Thomas Ehrlich Award for Excellence in Service Learning Award.