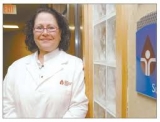 Awards
W. George Pinnell Award for Outstanding Service (1998)
About Amy D. Shapiro
Amy Shapiro is a pediatric hematologist. In 1987, she moved from her job in Colorado to become the Head of Indiana University's Hemophilia Center, an independent, non-profit program. Renamed The Indiana Hemophilia & Thrombosis Center, Inc., or IHTC, in 1998, it is now one of the largest federally recognized hemophilia treatment centers in the U.S. IHTC operates clinics statewide, and continues to be involved in numerous clinical trials, while offering patients cutting-edge therapies and access to research protocols. All of this was implemented under Shapiro, as she strove to serve the cultural parameters of Indiana's Amish community.
Shapiro was the first in the world to infuse an Amish patient with genetically engineered Factor 9 concentrate for hemophilia B. She also pioneered the first Amish-run Community Dental Clinic in Topeka, Indiana, which makes preventative and acute dental care and education available to the community, including the uninsured. She is also helping organize a health care clinic to treat children with genetic disorders. Beyond Indiana, Shapiro has partnered with the World Federation of Hemophilia, the I.U. School of Medicine, and Moi University to develop a program in benign hematology in Eldoret, Kenya.
Governor Mitch Daniels recognized Shapiro in 2009 with the Distinguished Hoosier Award for expanding the health care services to the Amish community.