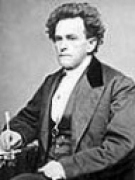 Awards
Honorary Degree (1851)

D.D.
Doctor of Divinity
Bloomington, Indiana
Presenter: Andrew Wylie
About William Mitchell Daily
William Mitchell Daily was born in Coshocton, Ohio, in 1812, but was raised in Indiana. He became a Methodist minister at the age of 19 and traveled throughout Indiana preaching. In 1835 he came to Bloomington with his ministry and began studies at Indiana University; he graduated the following year. Daily moved to St. Louis in 1838 and worked as an agent for the Missouri Conference. Shortly after this move he became a professor at St. Charles College. He returned to Indiana in 1840 to recover from a medical condition called hemorrhage of the lungs; upon recovery, he resumed his ministerial career. Daily married Permelia Northcraft in 1843 while he was a minister in Madison, Indiana. Beginning in December 1844 until November 1845 Daily served as Chaplain to the United States House of Representatives. Later he became an agent for Indiana Asbury University (now DePauw) and a member of the Indiana General Conference in 1852.
Upon his return to Bloomington, he became a member of the Board of Trustees at Indiana University on February 10, 1853, and attended his first meeting on July 30, 1853. On August 3, a mere day and a half after the resignation of President Ryors, the Board elected Daily as the third president of the university. Daily's appointment came in the midst of rife sectarianism on campus and in the community. From the beginnings of the university, Presbyterians had constituted most of the school's staff and faculty. This caused the Bloomington community to raise questions about the diversity of the school and about the politics involved. The Indiana Methodist Conference, established in 1832, made it a priority to be represented at the university itself, not just on the board. The sect met with certain opposition. Samuel Bigger, who was elected Indiana governor in 1840, declared that "there was not a Methodist in America with sufficient learning to fill a professor's chair if it were tendered him." (Woodburn p.115) But in 1853 the state had a new governor, Joseph A. Wright, who believed Daily's status as a Methodist and a Democrat could help the institution with its financial troubles. Daily's lack of credentials as an educator, however, caused many members of the IU faculty to feel he was unqualified for such an important position.
Daily's presidency was threatened in July 1858, when Dr. Alexander M. Murphy filed eleven separate charges against him. These charges included incompetence, plagiarism, and incurrence of debt. Other charges concerned incidents of sexual advances towards young women while his wife was away, with these being particularly damning. Murphy maintained that Daily was a "lecher and a lewd man at heart," and that he had used his position to seduce women.
Murphy's statements were compounded by other incidents involving Daily at the end of 1858. Louisa J. Smith, who did not know Daily, stated that on December 29, a strange man had accosted her in the street. The man matched Daily's description. On New Year's Eve, prominent Indianapolis citizens William Wallace and Benjamin Harrison testified that they had seen Daily intoxicated in public. These complaints came to the Board with Murphy's charges in January 1859. The body decided that Murphy would need to produce a list of witnesses to sustain the accusations. The next morning, instead of producing this list, Murphy dropped the charges altogether.
Although none of the charges against Daily were substantiated, he resigned his presidency on January 26, 1859, "in order that the unfavorable publicity connected with the trial might not be prejudicial to the University." (Myers p. 328) In a separate farewell address he delivered in February, Daily spoke of the affair as "slimy subterranean damnable conspiracies, brought about by malignant selfish, fiendish, devilish men who are instigated by malice." He also called the members of the faculty "a set of pusillanimous, narrow-minded bigots."
Local Methodists were disappointed by Daily, who was the first major Methodist faculty member at the University. In October 1859, the Indiana Methodist Conference met in Bloomington to decide upon Daily's fate in the association. It was a closed meeting; there were no witnesses presented and no minutes recorded, except for the decision: William Daily was expelled from connection with the conference. Regardless of the university's decision, the Conference felt that Daily should have been free of all suspicion in his position.
During the last years of his life Daily continued his ministry. Anxious to move South, he accepted the appointment of President Lincoln to become hospital chaplain in 1862. He served with the Louisiana Conference beginning in 1869. Daily was in the midst of this new career in the North New Orleans district when he became ill and died a few days later on February 5, 1877. He is buried in Madison, Indiana.