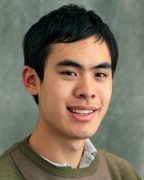 Awards
Marshall Scholar (2009)
Goldwater Scholarship (2008)
About Yun William Yu
Yun William Yu, son of Wen and Hsiupao, entered Indiana University at the age of 15 after graduating from Southridge High School in Huntingburg, Indiana. A member of the Hutton Honors College, Yu received his bachelor's degree from I.U. in Chemistry, Mathematics and Germanic Studies in 2009. Yu was the first undergraduate at I.U. to write his honors thesis in mathematics. He also earned master's degrees in Computational Biology from the University of Cambridge, and Biomedical Physical Chemistry at the Imperial College in London.
Yu was part of the I.U. Swing Dance Club, and Collins Living-Learning Center's acappella group. He volunteered in the Bloomington Hospital ER, at Wonderlab, and Habitat for Humanity. Yu has also served as a coordinator of the Hutton Honors College's literary magazine, and on the Board of Aeons, the student research and advisory board to the I.U. Office of the President.
Among his many awards, Yu was a Herman B Wells Scholar in 2005, a Barry M. Goldwater Scholar in 2008, and I.U.'s 17th Marshall Scholar in 2009.
Yu hopes to enter an M.D. or Ph.D. program that will lead him to a research career that would one day help achieve significant breakthroughs in the treatment of chronic pain.