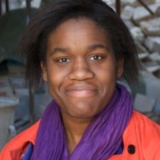 Awards
Rhodes Scholar (2012)
Stahr Senior Award (2011)
About Esther O. Uduehi
Esther Uduehi, of Evansville, was the 16th Indiana University Bloomington student to be named a Rhodes Scholar. She graduated from IUB in 2011 with a double B.A. in mathematics and chemistry. She went on to earn an M.Sc. from Oxford University in 2013.
Esther was a Herman B Wells Scholar. She has also been named a National Achievement Scholar and a Senator Richard G. Lugar Scholar. She has also received the Indianapolis Star Minority Achievement Award, and she received the Kenneth R.R. Gros Louis Scholarship. She co-founded the IU Minority Association of Pre-Medical Students and the IU Photography Society. She also served as diversity director for the IU Student Association and the vice president of the Board of Aeons. She also served as the presidential student intern, and interned with the IU Premed Summer Experience Program.
Esther currently teaches at the Fay School in the Boston area.