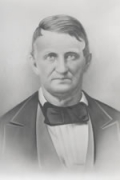 Awards
Honorary Degree (1845)

LL.D.
Doctor of Laws
Bloomington, Indiana
Presenter: Andrew Wylie
About Isaac Newton Blackford
Blackford was born in New Jersey in 1786 to Joseph and Mary Blackford, a merchant from England and a farmer's daughter, who was a nurse during the American Revolutionary War, serving in the Battles of Trenton and Princeton. Blackford's father died when he was just 12 years old. His mother remarried the next year. At age 16, Blackford enrolled in Princeton College, and he graduated in 1806 at the top of his class of fifty-four. In 1810, he was admitted to the New Jersey bar.
Blackford then made the decision to go west to find adventure on the frontier. Refusing or unable to spend the money for a stagecoach, he went from New Jersey to the Allegheny River near Pennsylvania's western border on foot and horseback and then took a boat to Cincinnati, then walked to Dayton. He lived in Brookville, Salem, and Lawrenceburg, Indiana Territory, a town just 8 years old, finding employment where he could. He was a cashier at a bank in Vevay and later at the Vincennes State Bank. He also edited a paper in Vincennes.
In 1813, Blackford became clerk of the territorial House of Representatives. He was then appointed judge in the circuit territorial court, where he rode horseback between settlements to try forty-nine cases. The first court in Gibson County was held at the largest residence in the county, and Blackford was its presiding judge.
Five days after Indiana became a state, on December 16, 1816, Blackford was elected the first Speaker of the Indiana House of Representatives for a term of one year. In 1817, he was appointed Indiana's Supreme Court Chief Justice, the first to be appointed after the three initial judges simultaneously appointed at statehood.
In 1825, Blackford oversaw the court during its move from Corydon to Indianapolis. He readily welcomed the move to Indianapolis and sold his Vincennes estate. He hired a Black servant, William Franklin, son of freed slaves, to be his manservant. Franklin stayed with Blackford for the rest of his life.
In August 1827, Blackford's mother died, and he shut himself away for six months, not even coming in to work. He started to recover and rode horseback between court cases. One day while riding, White River swept his horse away from under him. Blackford barely escaped by dragging himself onto a river island near Martinsville, but he was so weak that he could not cross back to the mainland. Two days later, a farmer saved him. Franklin, his manservant, nursed him back to health at the mansion in Indianapolis.
After this series of incidents, Blackford continued to do his court work, but otherwise made no other public appearances or attended any social engagements. He stayed in his one-room apartment in the Indiana Governor's Mansion for over twenty years, spending his time with only the companionship of his manservant, leaving only for occasional meals and church.
It was during this period of self-imposed solitude that Blackford started writing Blackford's Reports, a set of eight volumes, which became a required legal source for Indiana lawyers for the next 100 years. The individual volumes of his reports were first published in 1830, 1834, 1836, 1840, 1844, 1845, 1847, and 1850, with frequent reprintings in the U.S., Canada, and Great Britain. He became known as the "Indiana Blackstone" after a publicized comment by Washington Irving that the books were well known even in Westminster (where Sir William Blackstone's Commentaries on the Laws of England had been in continuous publication since before the American Revolution – and continued to be until World War II).
As an apparent exception to this solitude, in 1828, Blackford became one of the Board of Visitors of Indiana College (now IU), a liaison committee between the university and the state legislature. When it officially became IU in 1838, he was on its first Board of Trustees. That same year, Blackford County, Indiana, was named for him. Fellow IU alumni John Ketcham and James Moreland Stagg studied law under Blackford. In 1845, while he was the state's Chief Justice, Blackford received an honorary L. L. D. degree from IU.
In 1847, when fellow IU alumnus Charles Dewey left the bench, Blackford was the only justice on the court for a period of over 12 months, during a heated battle between Indiana's governor and state legislature. His popularity and lack of partisanship helped him uniquely weather political upheavals and administrations without losing his appointment.
From 1855 to 1859, Blackford was a judge of the Court of Claims, under President Pierce. He traveled back and forth to Washington, DC from Indiana.
Blackford died on December 31, 1859 in Washington, DC. His eulogist said, "He would have been overcrowded in an instant by any brass-lunged spouter who should have ventured into debate with him. To the last hour of his life he was painfully diffident in any situation that exposed him to special attention. But in his room alone, with his facts in his transcript, and his law in his library, he was a giant, as a coral is a giant, not in power but in production. Slowly, but with absolute certainty, he would dig on from point to point till he saw daylight through it." He closed his eulogy by saying that Blackford's opinions "are quoted in every state in the Union and even in England with as much respect as any reports ever produced in this country."
In 1819, two days before Christmas, Blackford married Caroline McDonald, the teenaged daughter of the man under whom he first studied law. She gave birth to their only child, George, on May 17, 1821. Thirteen days later, at age 20, Caroline died from complications of childbirth. Blackford raised the child in Vincennes until he died of malaria a few years later.
Blackford's will stated that the fortune he had made through the sale of his books be left to his half-sister, Charlotte Coons (born 1802), his only living relative. William Franklin, Blackford's manservant, lived until 1888, and his reminiscences of Blackford's life were used by Indiana lawyer, William Thornton, to write a biography of Blackford years later.
Blackford held the office of Indiana Supreme Court Chief Justice until 1853, thus becoming, and remaining to this day, the Indiana Supreme Court's longest serving justice and, until 1975, the longest in American history. Among his early cases was Polly vs. Lasselle, the decision of which freed all slaves in Indiana. During his leadership, he presided over 2,250 cases and wrote the majority opinion on 845.
He was a popular lawyer known for his fair impartiality and extensive research in the logic of court decisions. His biographer, lawyer Leander Monks, wrote that "his court was a seminary for the circuit lawyers after they had graduated from the school of the circuit."
Blackford had a library of over 2,000 books, extensive for that day. More than once, he would fail to collect his salary for a year or more at a time, allowing the state treasury to keep it to accumulate interest.