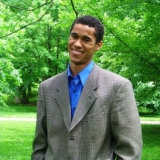 Awards
Stahr Senior Award (2011)
About Isak O. Nti Asare
Isak Osagyefo Nti Asare graduated from Indiana University Bloomington with a B.A., majoring in political science and linguistics. Born in Stockholm, Sweden, Nti Asare has lived and studied in Dubai and Sharjah (both in the United Arab Emirates), Estonia, Mexico, Azerbaijan and Ghana. He speaks five languages.
Nti Asare earned a Thomas R. Pickering Graduate Foreign Affairs Fellowship, which provides funding to participants as they prepare academically and professionally to enter the U.S. Department of State Foreign Service. He will receive $40,000 for each of the two years of his graduate program, as well as stipends for participation in domestic summer internships that follow each academic year.
Within the span of this past academic year, Nti Asare acted as treasurer of the African Languages Club (he was previously the president) and was undergraduate outreach coordinator for the African Studies Program. He received the Outstanding Senior Award and Outstanding Undergraduate Achievement Award (both from the Department of Linguistics) and the Wendell L. Willkie Scholarship for graduating seniors in political science.
He was also named McNair Scholar of the Year (2011), is a member of Phi Beta Kappa and received departmental honors from the political science and linguistics departments for his two distinct thesis projects (one for each major). He is working on A Dictionary of the Susu Language of Guinea along with recently named Beinecke Scholar Kip Hutchins and Professor Samuel G. Obeng, director of the African Studies Program.
He completed an M.Phil. in International Development at Oxford University in 2013.