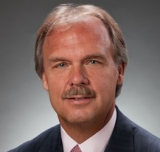 Awards
Stahr Senior Award (1981)
About Steven Robert Barth
Steven R. Barth received his J.D., cum laude, from the University of Michigan in 1984. He completed his B.S., with highest distinction, in finance from Indiana University in 1981. While a graduating senior at Indiana University, Steven was a recipient of the Elvis J. Stahr award.
Barth is a partner and business lawyer with Foley & Lardner, LLP where he co-chairs the firm's national Transactional & Securities Practice. He also serves as a member of the firm's Management Committee. Barth's area of expertise includes: mergers; acquisitions; leveraged re-capitalizations and buyouts; venture capital and private equity fund formation and portfolio company investment; public and private offerings of equity and debt securities; public corporation securities laws and reporting compliance; corporate governance; and the organization, development and financing of startup and development stage corporations.
In 1997, Barth was named by the Milwaukee Business Journal as one of Milwaukee's 40 leading professionals under 40 years of age. In 2014, 2015, and 2016, he was recognized in the editions of Chambers USA as a leading corporate/M & A lawyer.