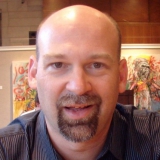 Awards
Wells Senior Recognition Award (1991)
About Eli Flournoy
Eli Flournoy, of Athens, OH, graduated from Indiana University Bloomington with a B.A. in political science and a certificate in African Studies in 1991.
At IUB, he was president of the Residence Halls Association (RHA) and a teaching assistant in the African Studies program.
In 1993, he began a career at CNN which has spanned over 20 years and led him to the role of senior director for CNN's International Newsource, which provides CNN content to broadcast teams across the world.
Eli's career as a journalist and producer has seen him on the ground for CNN in the Middle East, Africa, and Southeast Asia, as well as at CNN's headquarters in Atlanta, GA, directing coverage of a series of major international news events: wars in Bosnia, Kosovo, Afghanistan, and Iraq; the death of Princess Diana; the Israeli/Palestinian conflict; Israel's and Lebanon's 2006 conflict; international weather disasters, like Hurricane Katrina and the Southeast Asia tsunami; and the 1999 elections in Indonesia. His teams have won a number of journalism awards.
Eli is on the board of directors for the Sugar Bush Foundation and on the advisory board for Kennesaw State University's Center for Student Leadership.