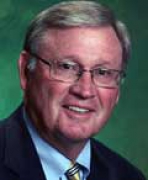 Awards
Z.G. Clevenger Award (1991)
Stahr Senior Award (1966)
About John F. Durkott
John F. Durkott holds Bachelor of Science and Masters of Business Administration degrees from Indiana University, where he was an Honors student and earned Honorable Mention on the All Big Ten Academic Football Team. Upon his honorable discharge from the United States Army in 1969 as a First Lieutenant, he was awarded the Army Commendation Medal.
John obtained his Certified Public Accountant license in 1973, then joining Kittle's Furniture in 1973 as Treasurer and Chief Financial Officer. He then served as President and Chief Operating Officer of Kittle's from 1982 through 2001, then as Chief Executive Officer through January 2010, and Vice Chairman of Kittle's Board of Directors until his retirement in December 2011.
John has served on the Boards of numerous businesses and organizations including: Allegiant Mutual Funds Trust (now PNC Funds),as an independent Trustee, the Indiana Retail Council as Treasurer and executive committee member, Noble of Indiana as Chairman of the Board, Indiana University Kelley School of Business Alumni Association as President, Dean's Advisory Council for the Kelley Graduate School of Business, Indiana University, Indiana University Alumni Association as an executive council member and investment committee, and the I.U. Men's Club of Indianapolis as President and Treasurer.
He is also a member of the American Institute of Certified Public Accountants and the Indiana Society of CPA's. In 2007, he received the Champion's Award from Noble of Indiana, and in 1991 he was the recipient of the Zora Clevenger Award from Indiana University.