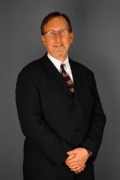 Awards
Wells Senior Recognition Award (1980)
About John H. Abrams
John H. Abrams graduated with highest distinction from Indiana University in 1980. During his senior year, he became a Phi Beta Kappa and received the Herman B Wells Senior Recognition Award. In 1984 he graduated from the Indiana University School of Medicine with highest distinction and published several articles in the American Journal of Ophthalmology. After serving his internship at St. Vincent Hospital and Health Care Centers in Indianapolis, and his residency at the Indiana University School of Medicine, he completed a fellowship in Uveitis at the Indiana Center for Uveitis.
In 1988, Dr. Abrams joined the ophthalmology practice of Lashmet, Spitzberg and Denny. Dr. Abrams' special interests include cataract surgery, refractive and laser surgery as well as the treatment of glaucoma and diabetic eye diseases. He has participated in numerous medical research programs. Dr. Abrams is a member of the American Academy of Ophthalmology, the Indiana Academy of Ophthalmology and the Indiana State Medical Association. He currently is the Co-Chairman of Clarian Ophthalmology and the Director of Methodist Hospital Ophthalmology Program. He is the team ophthalmologist for the Indiana Pacers, Indiana Fever, the University of Indianapolis and Butler University. He is also the Tournament Ophthalmologist for the NCAA and Big Ten Championships as well as the Indianapolis Tennis Championships.
Dr. Abrams has been recognized by The Best Doctors in America as one of the best physicians in the country for ophthalmic surgery. He has authored many articles on ophthalmology topics and has presented at numerous professional meetings throughout the country. Dr. Abrams was the recipient of the "40 Under 40" award by the Indianapolis Business Journal for outstanding accomplishments in his profession at a young age. Dr. Abrams enjoys volunteering in the community and serves on several boards, including a United Way Agency and the Indiana Pacers Foundation.
Dr. Abrams and his wife live in Carmel with their two children.