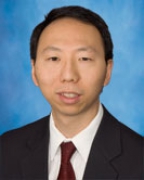 Awards
Wells Senior Recognition Award (1995)
About Jules Lin
Dr. Jules Lin graduated from Indiana University Bloomington in 1995 with a B.A. in chemistry, biology, and East Asian studies.
A Herman B Wells Scholar, Dr. Lin was also the recipient of the Distinguished Alumni Service Award Scholarship and the Parker-Powell Leadership Scholarship. He was elected to Phi Beta Kappa.
He completed his M.D. in 1999 at Harvard Medical School, where he was inducted into the famous Aesculapian Club.
The majority of his postdoctoral training has been in the University of Michigan hospital system, where he completed a number of surgical rotations. He has also completed a residency in cardiothoracic surgery at the University of Washington in Seattle.
Currently, he is assistant professor of thoracic surgery and surgical director of lung transplant at the University of Michigan Health System. He has co-authored a variety of studies.