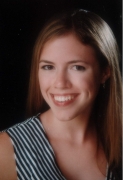 Awards
Wells Senior Recognition Award (2008)
About Kate FitzGerald
Kate FitzGerald, of Carmel, IN, served as Chief Justice of the IUSA Student Body Supreme Court. At Indiana University Bloomington, she studied political science and economics and was a member of the Liberal Arts & Management Program.
AN active volunteer for IU Habitat for Humanity, Kate worked on local builds as well as hurricane relief trips and served as IU Habitat's VP of Finance. Kate was also a leader in Phi Mu, where she served as Risk Management Chair and ran in the Little 50. A Wells Scholar, Kate has presented microfinance research in the Hutton Honors College Undergraduate Research Symposium and served as an HHC freshman mentor. Kate studied Spanish in Cuernavaca, Mexico, and development and environmental economics at the London School of Economics. She also has spent time in China. Kate is a member of Phi Beta Kappa.
Kate served with Teach for America for a number of years. Currently, she is earning her J.D. at the University of Michigan Law School.