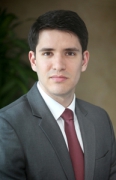 Awards
Wells Senior Recognition Award (2007)
About Khalil AbuGharbieh
Khalil Gharbieh graduated from Indiana University Bloomington with a B.A. in political science and religious studies.
Khalil was a Herman B Wells scholar. He was an active member of the Ethics Bowl team and a president of the Muslim Student Union.
Khalil holds a J.D. from the University of California, Berkeley School of Law. He is currently an associate in Arnold & Porter LLP's litigation practice group in Washington, D.C.