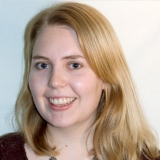 Awards
Wells Senior Recognition Award (2009)
About Rebecca Burns
Rebecca Burns came to IU Bloomington in 2005 as an HHC student and a Wells Scholar, after graduating from Reading High School in Reading, Mass. She graduated a member of Phi Beta Kappa with majors in international studies, African studies, and English.
As a first-semester freshman at IU, Burns founded a chapter of STAND, the student-led division of the Genocide Intervention Network. She served an internship with the network the summer after her freshman year, and and was Great Lakes regional outreach coordinator for STAND, an organization born out of the fight to stop genocide in the Darfur region of Sudan. As a direct result of her work with STAND and her lobbying efforts, the Bloomington City Council, the University Faculty Council at IU and the Indiana General Assembly all passed resolutions requiring public institutions to divest funds from companies doing business with the Sudanese government.
As an IU student, Burns has studied and traveled in Tanzania and Rwanda, studied post-conflict reconstruction at the Center for Khmer Studies in Cambodia, and taken part in a student health delegation to the Dominican Republic under the auspices of the Timmy Foundation. She has been a volunteer with the Monroe County Community Kitchen and a fundraising and development intern with Big Brothers Big Sisters of South Central Indiana.
She was the student co-organizer of a Hutton Honors College symposium on the international role and image of the United States, published an essay in the Undergraduate Journal of International Studies and served as an editorial assistant for Africa Today, a journal based at IU.
She holds an M.A. in peace studies from the Kroc Institute of International Peace Studies at the University of Notre Dame. She currently works as an assistant editor for IN THESE TIMES, a periodical published by the Institute for Public Affairs in Chicago.