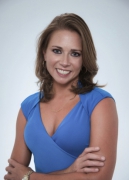 Awards
College of Arts and Sciences Outstanding Young Alumni Award (2017)
Wells Senior Recognition Award (2005)
Marshall Scholar (2004)
About Rebecca Homkes
Rebecca Homkes is the director of 21st Century Strategy, a boutique consultancy firm, where she works with CEOs and executive teams of top global companies and fast-growing enterprises on developing and executing strategies for growth, especially when facing extreme uncertainty. Homkes is also a teaching fellow at the London Business School's Department of Strategy and Entrepreneurship.
Rebecca was a Herman B Wells scholar and participated in the Kelley School of Business Honors Program. While at IU, she studied abroad and completed coursework in international economics and law at the University of Maastricht in the Netherlands and in Australian politics and policy at Melbourne University in Australia. During her summer breaks from IU, she's had internships with the consulting firms of Bain & Co. of Boston and ACIL Tasman of Melbourne, Australia, and in Sen. Richard Lugar's Washington office.
In the Kelley School, she was president of the IU Global Sales Leadership Club and has been secretary of its student government organization. She was also active in the IU Student Association, including as its federal relations director. She has held several leadership positions in the IU College Republicans and was invited to the Republican National Convention.
Rebecca earned a Marshall Scholarship, the 11th IU student to do so. She was also selected as an LSE Marshall Scholar, receiving an additional year of support to continue her studies.
She holds a Ph.D. from the London School of Economics, where she currently works as a research officer and as director of the Management Project and Public and Policy Engagement. She also lectures at the LSE.