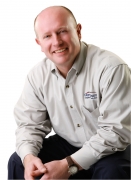 Awards
Wells Senior Recognition Award (1984)
About Scott Gudeman
Dr. Scott Gudeman graduated in 1984 from Indiana University Bloomington, where he was elected to Phi Beta Kappa.
He earned his M.D. from the Indiana University School of Medicine in 1988 and completed an orthopedic surgery residency and a sports medicine fellowship at the University of Cincinnati College of Medicine.
Dr. Gudeman is the team physician and medical director at Franklin College (IN). He is also a sports medicine surgeon at the Indiana Orthopaedic Hospital in Indianapolis.