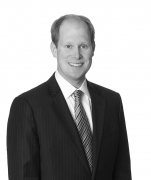 Awards
Wells Senior Recognition Award (1996)
About Thomas Kirsch II
Thomas Kirsch II, of Munster, IN, earned his B.A. in economics and political science from Indiana University Bloomington in 1996. At IUB, he was elected a member of Phi Beta Kappa.
In 1999, he earned his J.D. from Harvard Law School.
He clerked for the Honorable John D. Tinder of Indiana's Southern District. He was also an assistant U.S. Attorney for Indiana's Northern district, where he led numerous federal trials and investigations (2001-08). During this time, he received the Department of Justice Director's Award for Superior Performance and was recognized by both the FBI and the IRS his work. He also served one year as counsel to the assistant attorney general in the office of legal policy at the DOJ in Washington.
He is now a partner at Winston & Strawn in Chicago. He has published a number of articles in various legal journals.