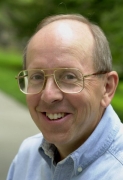 Awards
Frederic Bachman Lieber Memorial Award (1995)
About David E. Boeyink
David E. Boeyink received his B.A. in Psychology from Central College in Iowa in 1967. He then earned his M.A. in Theology from Harvard Divinity School in 1971, and his Ph.D. in Religious Ethics from Harvard University in 1978.
Before joining the faculty at Indiana University, Boeyink was the editorial editor at the Messenger-Inquirer in Owensboro, Kentucky, winning several awards for his work. He had taught at Kentucky Wesleyan College and Brescia College, and received his Ph.D. from Harvard University, where he was Religious Ethics and Old Testament Teaching Fellow at the Harvard Divinity School. Boeyink joined the Indiana University faculty in 1987. He is an Associate Professor Emeritus of Journalism and former Director of the Journalism Honors Program. After a career of 24 years, he retired from IU in early 2012.
Professor Boeyink's research focuses mainly on ethics and ethical decision making in the newsroom and in journalism. He is a co-author, with Sandra L. Borden, of Making Hard Choices in Journalism Ethics: Cases and Practice which was published in 2010. His articles have been published in Journalism Quarterly, the Journal of Mass Media Ethics, the Newspaper Research Journal, and the Journal of Religious Ethics.
Boeyink served on the Indiana University Faculty Colloquium on Excellence in Teaching in 1993. He is a member of the Association for Education in Journalism and Mass Communication, the Association for Practical and Professional Ethics, and the Society of Professional Ethics. He served as the Director of Media Studies for the Poynter Center for the Study of Ethics and American Institutions at Indiana University. After retirement he served as an advisor to the Journalism Director at IU.
Boeyink received a first place editorial prize and an award for best column in 1979, and two more first place editorial prizes in 1980, and 1987 from the Kentucky Press Association. In 1981, he received first place in editorial writing from the Cardinal States Chapter of the Society of Professional Journalists. He was the recipient of two Gretchen A. Kemp Fellowships from the IU School of Journalism in 1991 and 2003. Also from IU, Boeyink was awarded the Frederic Herman Lieber Distinguished Teaching Award in 1995, and the Brown Derby Award from the IU Chapter of the Society of Professional Journalists in 1996.