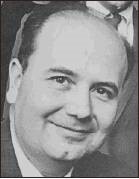 Awards
Frederic Bachman Lieber Memorial Award (1969)
About Frank J. Zeller
Frank J. Zeller was born Dec. 6, 1927, in Chicago. He received his B.S. (1951) and M.S. (1952) degrees from the University of Illinois where he met Carol Halloin, a biology classmate. They married in 1952 and accepted academic positions at Bryan College in Dayton, Tennessee.
They came to Indiana University where Frank earned his Ph.D. (1957). Frank joined the Department of Zoology and served on the faculty for 35 years. He was acting chairman (1976-77) and taught endocrinology in the IU Medical School after retiring. His teaching contributions at IU were impressive and extensive. He taught introductory biology courses, highly specialized graduate endocrinology courses; large lecture classes of five hundred students, and small graduate seminars. Frank's teaching ability was noted by two prestigious teaching awards. In 1966, he received the Sigma Delta Phi Brown Derby Award as the campus's "Most Popular Professor," and in 1969 received the Frederic Bachman Lieber Memorial Award. His graduate students went on to distinguished careers.
Frank served as Sunday school teacher, elder, and treasurer at the United Presbyterian Church in Bloomington. He was an active member of the Bloomington Lions Club, served as the club's treasurer, and was a Boy Scout Master. He was a loyal IU basketball and Chicago Cub fan.
Frank J. Zeller passed away on October 17, 2020, at the age of 92, in Harrisonburg, Virginia.