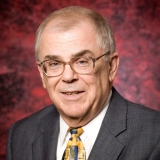 Awards
IUPUI Spirit of Philanthropy Award (2017)
School of Dentistry Certificate of Appreciation (1994)
Herman Frederic Lieber Award (1975)
About Daniel Wesley DeHayes, Jr.
Daniel W. DeHayes came to Indiana University in August 1969 from a two-year stint as assistant professor and U.S. Army captain at the Naval Postgraduate School in Monterey, California. From then until his retirement in 2005, his research, teaching, and service contributions to IU laid cornerstones for the institution's current high standing. IU has recently been lauded for excellence in information systems management, entrepreneurship education, and executive education. Dan's vision and diligence adorn each of these areas.
Dan held a variety of administrative posts at IU. From 1976 to 1981 he served as chair of the M.B.A. program. He was dean and director of academic computing from 1981 to 1986. (He had been promoted to full professor in 1979.) In 1987 he was appointed IU's first vice president of information technology, responsible for setting the strategic direction for the university's computing, printing, and telecommunications services. He also served as director of the Institute for Research on the Management of Information Systems from 1988 to 1992, and was chair of the Executive Education Program in the School of Business in 1992 - 93. The Kelley School of Business is currently ranked in the top 20 programs internationally for excellence in executive education. In 1995 - 96 Dan led a project team in the re-engineering of the personnel hiring process at the IU School of Medicine and the IU Medical Center in Indianapolis.
From 1989 to 1998 Dan was the founding director of the Johnson Center for Entrepreneurship and Innovation. This nationally recognized program was the catalyst for IU's development of an entrepreneurial education curriculum that currently ranks in the top five in the country at both the graduate and undergraduate levels. Dan was designated "Supporter of Entrepreneurship" by Ernst & Young in June 1999.
Throughout his active career Dan has amassed the research expected from a full professor at a Research-I institution. He recently acted as co-principal investigator for field studies on the traits of high performance organizations, and on the process of competitive intelligence. He is currently engaged in a study of high growth companies. He is also co-author of a best-selling text, Managing Information Technology: What Managers Need to Know, currently in its fifth edition.
Outside of IU Dan acts as an advisor to CEOs of privately held companies. He founded The Alliance, a forum for business leaders of privately held companies, in 1990, and continues to serve as the organization's facilitator. In 1999 - 2000 Dan was involved in analyzing the business and process re-engineering effort at the Crane Naval Base, which resulted in two lengthy business cases for use in business and public administration courses. During his career he has served on 11 boards of directors or boards of managers of privately held companies. He is currently vice chair of the board of Child Craft Industries, Inc., and on the Telamon Corporation's board as well. In addition, he has provided leadership in the creation and growth of 14 companies.
This wealth of experience translates into excellence in the classroom. Dan taught venture analysis, entrepreneurial strategy, marketing research, information systems management, materials management, management consulting, operations management, and decision sciences to M.B.A. and undergraduate students. He was the recipient of 11 M.B.A. and undergraduate, campus, and university awards for teaching excellence from 1972 through 2004. Even after his retirement, Dan remains a vital part of the Kelley School of Business. In 2005 - 06 he returned to teach Managing a Growth Company and Turnaround Management on a volunteer basis.