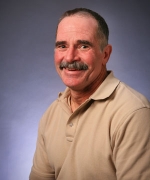 Awards
Bicentennial Medal (2020)
Herman Frederic Lieber Award (2004)
About Neil Sabine
Neil Sabine received his B.A. cum laude in Biology & Secondary Education from the State University College at Oswego in New York in 1977. He then earned his M.A. in Zoology from Southern Illinois University in 1982, and his Ph.D. in Zoology from Brigham Young University in 1987.
Sabine is an Associate Professor of Biology in the School of Natural Science and Mathematics at Indiana University East in Richmond. Before his appointment at IU, he taught general Biology, Zoology, Botany, Field Botany, Man and Environment, Anatomy and Physiology, and Limits of Science, and he was a Professor in the Department of Arts and Sciences at Indian Hills Community College in Ottumwa, Iowa from 1985 to 1991. Sabine's research includes the roosting and foraging behavior of Turkey Vultures in east central Indiana, and the relationship between student learning environments and their academic performance.
Sabine's innovative teaching methods have been recognized with several awards. In addition to winning the 2002 IU East Student Choice Award for Teacher of the Year, he has received IU's Teaching Excellence Recognition Awards in six out of the past seven years. He was a recipient of IU Research and the University Graduate School Research Awards in 1997, 1998 and 2001. In 1998, he also won the Helen Lees Award for Excellence in Teaching.
In addition to transforming learning in the classroom, Sabine has transformed the classroom itself by establishing field study courses in Belize and the Great Smoky Mountains.