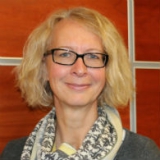 Awards
Lieber Memorial Associate Instructor Award (1993)
About Astrid Klocke
Astrid Klocke earned her Ph.D. from Indiana University in Germanic Studies in 2000.
Klocke is an Associate Professor of Humanities and a Coordinator of Cinema Studies in the Department of Comparative Cultural Studies at Northern Arizona University. She has served as the Coordinator of an International Film Series, Coordinator for Cinema Studies, as a member of the Executive Council for the American Association of Teachers of German, and a College of Arts and Letters Senator for Northern Arizona's Faculty Senate.
Klocke is the translator for the novel Bronskys Geständnis by Edgar Hilsenrath. She has also researched an article about the representation of Nazi perpetrators in multilingual films.