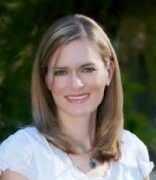 Awards
Lieber Memorial Associate Instructor Award (2001)
About Camilla V. Saulsbury
Camilla V. Saulsbury received her B.A. in Sociology from Bryn Mawr College in 1992, and her M.A. in Sociology from Indiana University in 1999. She also holds a Ph.D. in sociology from 2004 from Indiana University with a specialization in food studies, and her doctoral dissertation was a multi-faceted study of the contemporary meanings of home cooking in American culture. Following completion of her Ph.D., Camilla made food writing, food research, and recipe development her primary occupations.
Saulsbury is a freelance food writer, recipe developer and cooking instructor. Her culinary focus is translating food and flavor trends into fresh, innovative, and delicious recipes for the home kitchen.
Saulsbury has been involved in the world of food for more than 16 years, including catering specialty desserts in the San Francisco Bay Area, writing cookbooks and freelance food articles, and developing recipes for national food companies. Further, she has won several of the country's top cooking competitions, including the $100,000 National Chicken Cook-Off, the $50,000 Build a Better Burger Contest, and the Food Network's $25,000 Ultimate Recipe Showdown (Cookies Episode).
Saulsbury is the author of ten cookbooks, published by Sourcebooks and Turner Publishing. She is the brand ambassador for Pepperidge Farm® Puff Pastry and has served as a spokesperson and recipe developer for Pillsbury® Brownie Mixes and Cake Mixes. She is also the featured cooking expert for the online magazine GALTime.
Saulsbury has made multiple appearances on the Food Network, has been featured in the New York Times, made appearances on Today, Good Morning America-Health, BetterTV and QVC, and is a member of the International Association of Culinary Professionals (IACP). Her work has appeared in such magazines as Southern Living, Better Homes and Gardens, Cooking Light, Woman's Day, Woman's World, Cosmo Girl, Quick & Simple, Country Woman, Sunset, Cook's Country, and Vegetarian Times.
Saulsbury has been the recipient of several awards. From Indiana University she has received the Teaching Excellence Recognition Award from Department of Sociology in 1999 & 2000, the Edward H. Sutherland Award in 2000, the Lieber Memorial Teaching Associate Award in 2001, the Graduate and Professional Student Association Research Award in 2003, and the Dissertation Grant-in-Aid of Research from the Research and University Graduate School also in 2003. She also received the Faculty Fellow Award from the American Sociological Association in conjunction with Depauw University and Indiana University in 2001, and was awarded the Patricia H. Cross Future Leader Award from the American Association of Higher Education in 2002.