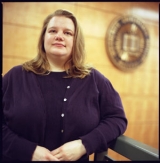 Awards
Lieber Memorial Associate Instructor Award (2003)
About Carla D. Shirley
Carla D. Shirley earned her Ph.D. in Sociology from Indiana University in 2003.
One of Carla Shirley's main goals for her students is to link what they learn in her classroom to society and everyday life. To fulfill that goal, she and her students venture onto the IU campus and into the local community to put sociology to work.
Shirley and her students made a documentary about race relations at IU, which is now used in introductory sociology courses and diversity workshops. She and a group of students also tried to determine whether racial profiling was a factor in the issuance of traffic tickets in Monroe County. It's not surprising that the heads of Shirley's department singled her out as an instructor "on the forefront of innovation among either our graduate students or faculty."
What makes Shirley such an exceptional teacher is her commitment to her students' success. She puts an incredible amount of energy into not only constructing her classes and conveying information to her students, but also into extra study sessions and other aids to help them do well.
Her commitment to teaching has not gone unnoticed. She won three awards in 2002 alone: the IUB Department of Sociology awarded her the Sutherland Teaching Award and the Social Action Award, and the university awarded her the Won-Joon Yoon Memorial Scholarship for encouraging and promoting racial tolerance at IU. Shirley also was chosen as the department's Preparing Future Faculty Fellow for this year.
In short, praise for Shirley runs rampant on the IU campus, not only from her students and professors, but from her fellow associate instructors. As Shirley's colleague, Sandi Nenga, remarked: "Truly excellent teaching . . . is difficult to document because it consists of intangible arts: managing emotions, predicting and removing educational roadblocks, and finding joy and purpose in teaching. Carla Shirley has mastered all of these and is a truly excellent teacher."