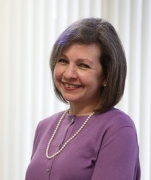 Awards
Lieber Memorial Associate Instructor Award (1986)
About Catherine A. Dobris
Catherine A. Dobris received her B.S. from Emerson College in 1981. She then earned her M.A. in 1984, and her Ph.D. in 1989 from Indiana University.
Dobris is an Associate Professor of Communication Studies and Adjunct Professor of English & Women's Studies at Indiana University-Purdue University in Indianapolis. Her research interests include contemporary rhetorical theory & public address, women's studies, and intersections of race, class, culture, ethnicity & gender from a rhetorical perspective.
Dobris is the author of Chapters in Centering Ourselves: African American Feminist and Womanist Studies of Discourse, More Quick Hits, Doing Research on Women's Communication: Perspectives in Theory and Method, and Telling Political Lives.
Dobris has been the recipient of the Teaching Excellence Recognition Award in 1997, 1998, 2000, 2004, 2009, & 2011, and is a member of Faculty Colloquium for Excellence in Teaching.