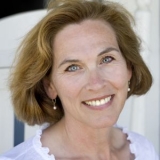 Awards
Lieber Memorial Associate Instructor Award (1983)
About Cathy Pons
Cathy Pons grew up in Western North Carolina and is a member of the Waldensian community in Valdese. After completing a B.A. in French at the University of North Carolina at Greensboro, she spent a year in France as a Fulbright Teaching Assistant. As an Assistant Professor at Indiana University, she directed the elementary French program and earned her M.A. in French Instruction, and another M.A. in General linguistics. She later earned her Ph.D. in French linguistics, also from Indiana University.
Pons served on the faculty of several AATF Summer Institutes and on the Executive Board of the Indiana chapter of AATF. Teaching at UNC-Asheville since 1995, Pons is Professor in the Department of Foreign Languages. She is past president of the Foreign Language Association of North Carolina and a founding member of the Executive Board of the Alliance for Language Learning.
Pons' research focuses on foreign language pedagogy, second language acquisition, sociolinguistics, and dialectology. She is co-author of three elementary French textbooks.
Pons has received numerous grants in support of study abroad programs for students and faculty, including a Fulbright Summer Seminar Grant.