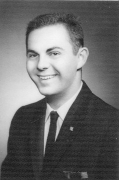 Awards
Lieber Memorial Associate Instructor Award (1966)
About Clyde R. Metz
Clyde R. Metz earned his Ph.D. in Chemistry from Indiana University in 1966.
Metz now serves as a Professor of Chemistry at the College of Charleston in South Carolina. He research interests focus on crystallography & molecular structure, statistical & classical thermodynamics, and electrochemistry of molten salts. He is a coauthor of a general chemistry textbook and related laboratory materials, solutions manuals, and study guides and has published several student research papers.
Dr. Metz is active in the Division of Chemical Education of the American Chemical Society; is a member of the Electrochemical Society, Alpha Chi Sigma, Sigma Xi, Tau Beta Pi, Phi Lambda Upsilon, and the South Carolina Academy of Science; and is a Fellow of the Indiana Academy of Science.