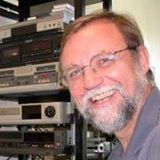 Awards
Lieber Memorial Associate Instructor Award (1981)
About Daniel Soneson
Daniel Soneson received his B.A. in German & Religious Studies from Macalester College in 1975. He then earned an M.A. in German in 1979, an M.A. in Religion in 1982, and a Ph.D. in German in 1985 from Indiana University.
Soneson serves as the Director of the Foreign Language Lab at Southern Connecticut State University, where he works with faculty and students in the department to employ computers and other technology in the curriculum.
Soneson's research focuses on Foreign Language Acquisition and the application of technology to the acquisition process. He has developed numerous multimedia activities for learners of elementary and intermediate German. In addition, he has worked with colleagues in French and in Spanish to develop multimedia materials which are useful in acquiring those languages. In addition, he has developed several different templates which can be used by instructors of any Western foreign language to improve students' phonetic abilities, to extend the oral proficiency of students, and to assess communicative competence in the four skills of speaking, listening, reading and writing.