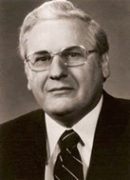 Awards
Honorary Degree (1981)

L.H.D.
Doctor of Humane Letters
Commencement
Bloomington, Indiana
Presenter: John William Ryan
About Alfred Blair Helman
Indiana University is always pleased to honor those who have served higher education with distinction. In his twenty-five year tenure as President of Manchester College, A. Blair Helman proved an able and astute administrator, establishing well-defined educational objectives within the framework of the school's church-related affiliation. He brought together a competent and dedicated faculty and mediated conflicting demands so that resources were allocated to serve the interests of students and faculty alike. It is a testament to his skill as educator and administrator that Manchester College gained a reputation for placing its students in professional and other graduate programs. In addition, the college is well-known for its alumni, who distinguish themselves in education, in public and social service, and in church-related vocations.
Born in Windber, Pennsylvania on Christmas Day, 1920, Alfred Blair Helman graduated in 1946 with an A.B. magna cum laude from McPherson College, McPherson, Kansas. In 1947 he earned an M.A. degree from the University of Kansas, where he continued doctoral studies until 1951. He was ordained to the Ministry of the Church of the Brethren in 1942 and was pastor at Church of the Brethren, Newton, Kansas (1944-46) and at the sister church in Ottawa, Kansas (1946-54). He simultaneously taught at Ottawa University, where he served as Chairman of the Division of Social Sciences from 1952-54. From 1954-56 Blair Helman was both an instructor in history at Friends University and pastor of the First Church of the Brethren in Wichita, Kansas. In August 1956 he assumed his current position, the presidency of Manchester College.
Blair Helman's service to higher education in Indiana and nationally was extensive. He served as President of the Indiana Conference of Higher Education (1960-61) and on its Executive Committee (1972-74). Beginning 1977 he served on the Board of Directors of the Independent Colleges and Universities of Indiana and was the board's president in 1978-79. His contributions to higher education include appointments to the President's Advisory Committee, National Association of Intercollegiate Athletics, 1966-70, and several appointments to national committees involved in the role and nature of religion in higher education. At the national level, these responsibilities included serving as Chairman of the Council of Protestant Colleges and Universities, a board on which he served from 1961-69. Other such services include membership on the Commission on Religion in Higher Education, Association of American Colleges (1968-71), and on the Policy Board, Department of Education, National Churches of Christ in the U.S.A. (1960-71). Blair Helman shouldered similar responsibilities within the state of Indiana. In 1966-67 he was President of the Indiana Association of Church-Related and Independent Colleges and he served on the Board of Directors and Executive Committee of the Indiana Council of Churches.
Blair Helman's dedication to religious education had not gone unnoticed. His work has been recognized by McPherson College, Juniata College, Bridgewater College, and Indiana University, all of which have awarded him honorary degrees. In 1975-76, he was appointed moderator of the Church of the Brethren, a high honor richly earned.
On June 22, 1947 A. Blair Helman married Patricia Ann Kennedy. They have two daughters, Harriet Ann and Patricia Dawn.