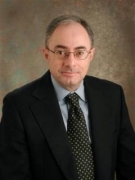 Awards
Lieber Memorial Associate Instructor Award (1971)
About Donald J. Puglisi
Donald J. Puglisi received a B.A. with high honors in Accounting, and an M.B.A. in Finance from Michigan State University. He also holds a D.B.A. in finance, accounting and quantitative business analysis from Indiana University.
Puglisi is the Emeritus America Professor of Business at the University of Delaware and Managing Director of Puglisi & Associates. He joined the faculty at the University of Delaware in 1971, and founded Puglisi & Associates in 1973. Puglisi & Associates provides financial and administrative services to a variety of Delaware-based holding companies, many of which are subsidiaries of major U.S. and foreign based corporations. As a Professor, Puglisi's primary teaching responsibilities focusing on corporate finance, securities analysis & portfolio management, the pricing & uses of derivative instruments, and the management of financial institutions. He has published extensively in those areas.
In July 1997, Puglisi was nominated by Delaware's Governor and confirmed by the Delaware Senate to be a Commissioner on the State's Public Service Commission, the five-member group that is authorized by the Delaware General Assembly to regulate investor-owned utilities providing services for public use within the State of Delaware. He stepped down from the Public Service Commission in December 2004. He has also served as a University of Delaware Public Service Fellow with the Office of the Treasurer for the State of Delaware and as a Visiting Research Scholar with the Federal Home Loan Bank Board.
Puglisi has been the recipient of Excellence in Teaching Awards on six separate occasions while at the University of Delaware. He has also been awarded the University of Delaware's Medal of Distinction. As a Visiting Research Scholar with the Federal Home Loan Bank Board, he was the recipient of two Outstanding Service Awards. In 2000, he was awarded the State of Delaware Order of the First State Award.