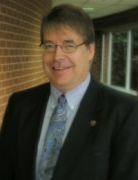 Awards
Lieber Memorial Associate Instructor Award (1997)
About Gary S. Insch
Gary S. Insch received his B.S. in Finance from Brigham Young University, and his M.B.A. in International Business & Marketing from the University of Utah. He then earned his M.S. in Business Administration and his Ph.D. in International Business & Strategy from Indiana University.
Dr. Insch is a, Associate Dean for Graduate Programs and Associate Professor of Management at West Virginia University's College of Business & Economics. His teaching and research interests include international entrepreneurship, small business planning and performance, expatriate evaluation, training, turnover & repatriation, and liability of foreignness effects on corporate decision-making, foreign direct investment & industrial purchasing.
Insch has been published in Leadership Quarterly, Management International Review, Journal of Business Research, Multinational Business Review, Business Horizons, and Journal of International Consumer Marketing, and his research has been presented at many professional meetings including the Academy of International Business and the Academy of Management.