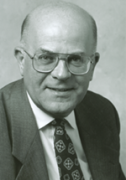 Awards
Lieber Memorial Associate Instructor Award (1966)
About Harold M. Sollenberger
Harold M. Sollenberger earned his D.B.A. from Indiana University.
Sollenberger is Professor Emeritus of Accounting and Information Systems in the Eli Broad Graduate School of Management at Michigan State University, a career of over 42 years. He has served as Chair of the accounting, finance, and insurance faculties and as Associate Dean for the MBA Programs.
Sollenberger has published numerous textbooks, research reports, and articles dealing with management accounting, management information systems, financial analysis and planning within financial institutions, and financial simulation within financial institutions. His most recent work deals with capital adequacy and defining financial high performance for credit unions. He has taught executive education seminars and has spoken to numerous groups on management accounting and financial institution management.
He served as Interim Executive Director of Michigan State University Dubai in 2010.