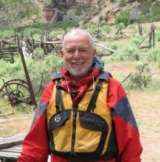 Awards
Lieber Memorial Associate Instructor Award (1965)
About John T. Windell
John T. Windell is a specialist in ichthyology, and received both his M.A. and Ph.D. (1965) from Indiana University. From 1958 to 1961, Windell was an assistant professor in physical education, football, and a track coach at Indiana Central. At I.U., He was an assistant Professor and a research assistant in the Indiana Aquatic Research Unit.
After graduating, Windell was named an Associate Professor in the Department of Biology at the University of Colorado.
As an ichthyologist, Windell's research focused on freshwater fish, and he was invited to present a paper at the International Biological Programme in 1965.