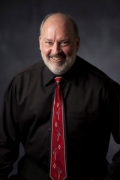 Awards
Lieber Memorial Associate Instructor Award (1990)
About John W. White
Dr. John W. White is an Associate Professor of Music Theory, History, and Composition at Ithaca College in New York. He received a B.M. in Theory & Composition and in Piano Performance from the University of Northern Colorado in 1980. He also earned a M.M. in Music Theory at Ithaca College, and a Ph.D. in Music Theory from Indiana University in 1990.
Dr. White has taught a range of courses at Ithaca College including select graduate courses in analysis, all courses in the undergraduate theory and sight singing sequence, Introduction to Musical Styles, form and analysis, analysis of 20th-century music, advanced aural skills, class piano, and other specialized courses such as Choral Arranging, Orchestration, Special Topics: Analysis and Performance, History of the American Musical Theater, and Music and the Media. He is also a member of the faculty at Ithaca College's Summer Piano Institute, and has been an active clinician in workshops devoted to jazz theory and improvisation.
Other than teaching, Dr. White remains an active professional pianist specializing in diversity, being equally at home in the worlds of jazz, classical, and popular music. He has performed in an ongoing duo and smaller group collaborations with jazz vocalists and free improviser Rhiannon, made appearances with jazz performers Wycliffe Gordon and Tony Baker, has provided workshop accompaniment for Dr. Barbara Baker (choral director and scholar of Black Gospel music), and made freelance appearances with numerous jazz musicians in the upstate New York region. He has also played the part of Music Director and Organist for St. Paul's United Methodist Church in Ithaca, New York.
Dr. White is the co-developer of the TAKADIMI beat-oriented system of rhythm solfege, and the author of articles in The Journal of Music Theory Pedagogy, College Music Symposium, and ex Tempore. He has also presented at many national and regional conferences on topics including the analysis of free improvisation, the music of the Oregon chamber ensemble, rhythm skills pedagogy, improvisation pedagogy, and the analysis of vernacular music in regard to semiotic codes and cultural values.
Dr. White received the Dale Dykins Award in Composition in 1980 while attending the University of Northern Colorado, and the Lieber Award for Distinguished Teaching in 1990 from Indiana University.