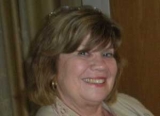 Awards
Lieber Memorial Associate Instructor Award (1980)
About Kaylene A. Gebert
Kaylene A. Gebert earned her B.A. in English & Speech-Drama at Hanover College in 1966. She then earned her M.A. in Theatre Production from Cornell University in 1968, and her Ph.D. in Historical and Contemporary Communication from Indiana
University in 1980.
Gebert serves as the Vice President for Academic Affairs, Provost and a Professor of Speech and Theatre at the University of North Alabama. Previously, she worked as a Teacher in Indiana, a Lecturer and Adjunct Instructor at Indiana University-Purdue University at Fort Wayne, an Associate Instructor at Indiana University, an Assistant Professor in Rhetoric & Public Address, an Associate Director of Developmental Education, the Director of Student Support Services, and the Acting Associate Dean & Acting Director of Developmental Education at Louisiana State University, the Dean of Academic Development and a Professor of Speech and Performing Arts at Northeastern Illinois University, the Assistant Vice Chancellor for Academic Affairs at the State University and Community College System of Tennessee, and an Associate Vice Chancellor for Academic and Student Affairs for the State System of Higher Education in Pennsylvania.
Gebert is a member of the American Association of State Colleges and Universities, the National Association for Developmental Education, the American Association of University Women, the American Council on Education, Board of Directors for the Shoals Symphony Orchestra, and the Primary Care and Hope Clinic Board of Directors.
Gebert has been the recipient of the Indiana University Teaching Assistant Award for distinguished teaching in 1980, the Henry C. Long Citation for Outstanding Senior Woman from Hanover College, an Alumni Award, Graduate assistantships from Cornell University and Indiana University, Order of Omega honorary initiate in 2001, and a member of Phi Kappa Phi in 2003.