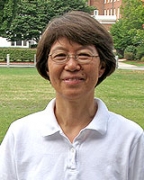 Awards
Lieber Memorial Associate Instructor Award (1983)
About Kiyoko Morita Anderson
Kiyoko Morita Anderson received her B.A. from California State University. She then earned her M.A. and her ABD from Indiana University. She is a Ph.D. candidate at Lesley College.
Anderson serves as a Lecturer in the Japanese Program, and Coordinator of the Japan-in-Boston Program for Tufts University. Her research focuses on education, Japanese teacher training for secondary schools, and program & curriculum development.
She is the author of The Book of Incense: Enjoying the Traditional Art of Japanese Scents.