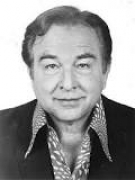 Awards
Honorary Degree (1991)

L.H.D.
Doctor of Humane Letters
Commencement
Indianapolis, Indiana
Presenter: Thomas Ehrlich
About Aurand Harris
Aurand Harris was an American playwright who wrote 36 plays for children, estimated at the time of his death in 1996 to have been performed on over 30,000 occasions. He originated in Jamesport, Missouri and achieved a master's degree from Northwestern University in Evanston, Illinois, where he worked with Winifred Mary Ward, a pioneer in children's theatre.
He commenced his teaching career in 1939 in public schools in Gary, Indiana. He become head of the drama program at a junior girls' college, William Woods College, in Fulton, Missouri two years later. After a further three years he relocated to New York City to study writing for theater. Simultaneously, he commenced a teaching position at Grace Episcopal Church School in Manhattan. He remained in this position for 33 years.
Initially he was interested in adult theater, but after setbacks in that field, he turned his attention to writing for children, having already written a number of children's plays in his younger years.
In 1964 he wrote Androcles and the Lion, his best known work. It was translated into ten languages, and was for a time the most produced play of any American playwright for children. In 1976 he became the first children's playwright to receive a National Endowment for the Arts Creative Writing Fellowship. In 1985 he was inducted into the College of Fellows of the American Theater; the ceremony took place at the Kennedy Center in Washington. In 1988 he directed one of his plays at Shanghai Children's Art Theater. It was the first time a western children's play had been performed for Chinese children.
He also co-edited a number of anthologies of plays for children and adolescents.